---
Christie, California - on the BNSF mainline east of Richmond, in the San Francisco Bay Area. The station (gone since the late 1920's) and siding (still in existence today) were named in 1908 after my great-grandfather, John A. Christie, who served in various capacities in the AT&SF Railroad, retiring in 1940 as division superintendent in San Francisco. It is just west of the Franklin Canyon tunnel and is a prime BNSF railfan site.
Christie Road & California State Highway 4, just east of Pinole
The siding sign, at MP1176 from Belen, NM.
---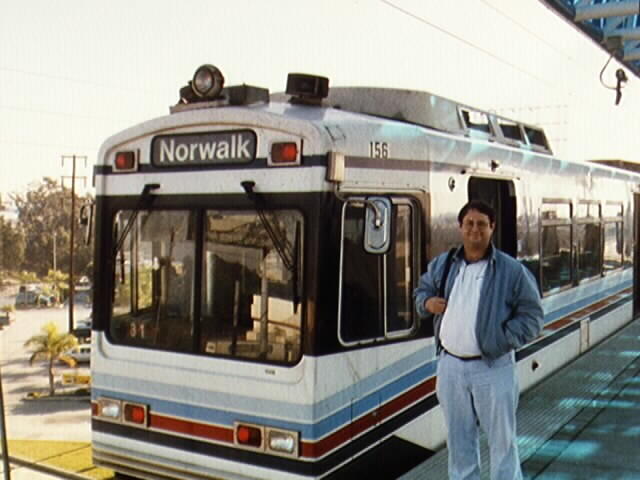 Here I'm standing next to a LACMTA light rail vehicle at the Douglas Av./Marine station (eastbound, heading to Norwalk) on my Friday after Thanksgiving, 1997 tour of L.A. rail lines (along with my stepfather-in-law, Gene Owens).
For more transit related stuff, visit the Transit Gallery. And for non-transit related stuff, visit my wife's home page.
---
Here's who runs things at the Mullins' household: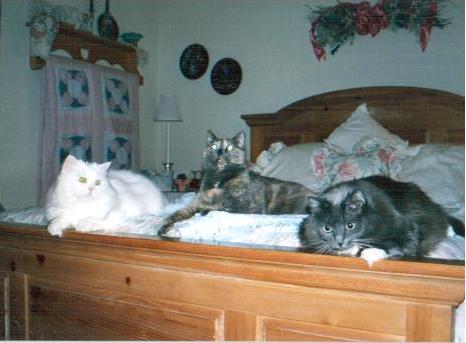 L to R:
Truffles, the full-blooded Persian (a.k.a. The Evil One, The Spawn of Satan, The Bad Son, Minion of the Antichrist); he likes to wander on the vanity anytime between 0300 and 0530, and makes as much noise as possible, just to get attention. For fun, he likes to attack his "sisters." This is not looked upon kindly by the others.
Babushka (the old, crochety, and demanding, yet sweet, loveable and cuddly blue-cream tortie (she loves to lie on laps and knead, or snuggle right next to you, even if it is 111°F and 111% humidity outside)).
A rare appearance by Cookies (the shy medium-haired grey tuxedo with white booties and a little spot on her chest). Cookies hides most of the day, and joins us when we go to bed. At times, if she spots Truffles, she will start growling and hissing. Never mind that Truffles ignores it. It's at a pitch and volume level that is very ingratiating.
To have Truffles and Cookies so close together without an attack by Truffles is a miracle! But if you look closely, Truffles has got that look... (photo taken in 1998)

Babushka - 1986(?) - 27 October 2003 RIP

For more cute cat pictures, check out my wife's home page.
---



Courtesy U.S. Naval Observatory
Can a fiscal conservative be a proponent of mass transit? Suprisingly, the answer is YES! Read Conservatives and Mass Transit: Is it Time for a New Look? by Paul Weyrich and William Lind of the Free Congress Foundation.

Read the new paper from Messrs. Weyrich and Lind, Does Transit Work? A Conservative Reappraisal, with an introduction by Hon. Tommy G. Thompson, Gov. of Wisconsin.
There have been
visits here. Wow!


---
| | | |
| --- | --- | --- |
| This is Truffles, one of our cats. Isn't he cute? | You may contact me at mrm @ lerctr.org (personal) -or- ray.mullins @ softwareagusa.com (business) | Click on the map to browse |
---
Join the Blue Ribbon Anti-Censorship campaign
This page brought to you by

---
Frequently Asked Questions about spam
---
My wife's collection of college nicknames which is under construction.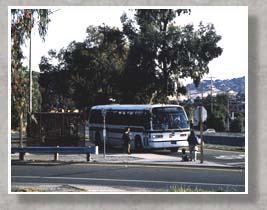 © 1996 Golden Gate Bridge, Highway and Transportation District
And now for some transportation links...
Want to travel by bus and/or rail over the 7 Bay Area Bridges? Click here.
A list of tips and other information about the Transtar Transit server for Southern California.
---
(All counters provided by
)
---
Last modified: Friday, 11-Nov-2022 14:04:05 CST